Used Refurbished and Reconditioned Police Radar for sale. All Police Radar with 1 year warranty!
See many Reconditioned Radar for sale on these pages!: Kustom Radar, Decatur Radar, Stalker Radar, MPH Radar, Handheld Radar Gun, and Special offers.
Phone: (502) 543-7032 Email: radar@pbelectronics.com
---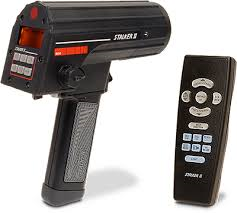 STALKER II MDR DIRECTION SENSING POLICE RADAR
Can distinguish what is Coming or Going
The Stalker II features moving direction sensing technology. This breakthrough technology allows it to know if targets are approaching or going away from the radar - in both stationary and moving modes.

Automatic Same Lane Operation
The operator does not need to manually tell the Stalker II if same lane traffic is going faster or slower than the patrol vehicle. This makes same lane operation as simple and accurate as conventional moving mode operation.

A Giant Leap in the Effectiveness of Stationary Operation
The Direction Sensing ability of the Stalker DSR allows the operator to select a specific direction of traffic to monitor. The DSR can measure closing targets while automatically ignoring vehicles that are going away - even if a target moving away is closer than a distant closing target. The DSR opens up whole new areas that can be worked effectively with stationary operation.

CLICK HERE FOR BROCHURE
Moving/Stationary Stalker II KA Direction Sensing Radar with DSP technology for displaying FASTEST and strongest vehicle simultaneously. With same and opposite direction moving modes, remote, dash bracket, certification, operators manual, tuning forks, refurbished with 1 year warranty. $1495 ORDER HERE ONLINE
---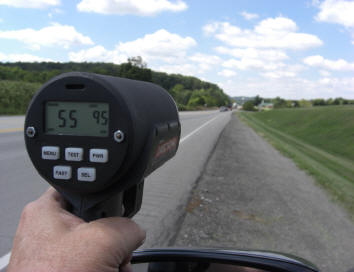 Genesis VP
Traffic safety radar gun
Cordless radar gun. Gives you built-in quality, convenience, and top performance. Powered by two Black & Decker® VersaPak™ rechargeable batteries, the GENESIS VP gives you hours of performance on a single charge. Ideal for motorcycles! Refurbished ($995 new)
Standard package includes…
Stationary operational mode software
Units of measure are MPH (miles per hour)
2-port charger and 2 batteries
Tuning fork
Operator's Manual
Radar certification document
Carrying case
One Year Full Warranty
If you wish you can easily adjust sensitivity (distance range), squelch, audio volume, and back lighting using the "menu" and "select" buttons. To track the faster target, just press the FAST button. For years radar guns could display only the speed of the vehicle returning the strongest signal. With new batteries, charger, tuning fork, certification, hard shell foam lined carry case, and 1 year warranty. now ONLY $695
---
GENESIS VP DIRECTIONAL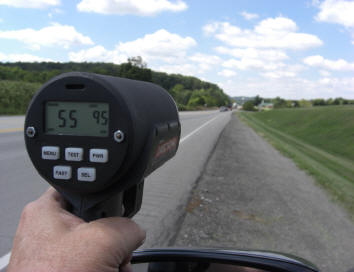 Traffic safety radar gun MPH or KPH
The GVP DIRECTIONAL gives the operator the option to easily select and focus on vehicles going away from or coming toward him/her from a single, stationary patrol position. Unlike previous handguns, the operator can selectively monitor traffic coming toward, moving away, or both directions simultaneously! When in "directional" mode, vehicles moving toward you are indicated with a "t," vehicles moving away from you with an "A." Directionality dramatically enhances the target selection process. If the radar is set to "towards" mode, it will only track vehicles coming towards the radar. All vehicles going "away" are ignored!! In heavy traffic situations, the operator can choose to make traffic moving in one direction "invisible" to the radar, thereby concentrating on the most problematic lane. Refurbished ($1595 new)
Directional Capability
FASTEST VEHICLE PROCESSING IN SEPARATE WINDOW
VersaPak™ Battery System.
Two 3-digit display windows and icon indicators with back light.
5 button rubber keypad with back light.
Radio Frequency Interference (RFI), Low Voltage, & Error Condition Detectors.
Adjustable Audio/Squelch and Sensitivity control.
Back Light control.
Speed Units: MPH or KPH.
Standard Speed Range, 5-200 MPH, 8-320 KPH.
To track the faster target, just press the FAST button. For years radar guns could display only the speed of the vehicle returning the strongest signal. Now the Genesis-VP™ DIRECTIONAL lets you track and lock the speed of the vehicle with the strongest signal return or the speed of the faster moving vehicle.
With batteries, charger, tuning fork, certification, hard shell foam lined carry case, and 1 year warranty. $995 ORDER HERE ONLINE
---
STALKER ATR Moving/Stationary POLICE RADAR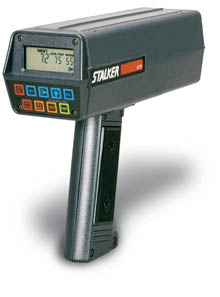 with Fastest Vehicle Mode!
Ka BAND Moving/Stationary Hand-held Radar with DSP technology. This radar uses DSP technology to display the FASTEST and strongest vehicles. The ATR clocks the Semi that is closer and the corvette that is much further behind the semi traveling faster, simultaneously! The ATR has Calibration test, Segment test, adjustable audio, range control, RF hold and trigger lock. With certification, Corded Handle, hard shell foam lined carry case, tuning forks, operators manual and 1 year warranty.
The Stalker ATR (Advanced Technology Radar) is one of the highest performance one piece police radar available.

ery High Performance Design
• 3 Window Display
• Read-Thru Lock
• Backlit LCD for Nighttime Use
• Twin Horn Ka Band Microwave
• Advanced Digital Signal Processing
• Cordless Operation Option
• Remote Control Option
• Detachable Handle Design
• Touch Panel Keyboard
• Narrow Beam-Width
• Rugged Polycarbonate Construction
• 1 Year Full Warranty

The backlit LCD display features readouts for Patrol speed, STRONGEST target, and FASTEST target. By displaying both strongest and locked targets simultaneously, the Stalker ATR can monitor vehicles while locked on violator.
While traveling in moving mode just raise radar up and it will instantly display patrol speed and oncoming vehicle speed. speed.

Amazing Performance
To achieve the industry's highest performance, the Stalker ATR utilizes an innovative twin horn, Ka band antenna design. The microwave system features separate horns for transmit and receiving functions.
Moving/Stationary Ka band Radar with Fastest upgrade. Comes with hard shell foam lined carry case, Corded Handle, certification, operators manual, tuning forks, and 1 year warranty. $995
Dash Bracket $175, battery pack and desk charger option $190
---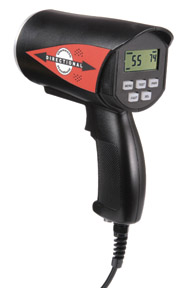 Genesis Handheld Directional MPH/KPH POLICE RADAR GUN
Small and Light weight - Only 1.5 lbs!
Direction Sensing Technology
Simple-To-Use Stationary Format
Display Approaching or Receding Traffic
Display Traffic in Both Directions
Isolate Traffic in One Direction
Track and Lock the FASTER Target
Easy-To-Read LCD Display
Target and Lock Speeds Displayed
READS SPEEDS FROM 10 - 199 KPH. These radar guns are NHTSA approved for law enforcement and have fantastic range! Reads speeds toward or away from radar. Just point and squeeze trigger. As soon as trigger is pulled, the radar emits a signal and reading is displayed. Then release trigger, the reading will lock and stop transmitting signal to defeat radar detectors. Has coiled cord and cigar plug and runs on any 12 V power source. With certification, tuning fork, hard shell foam lined carry case, and 1 year warranty. KILOMETERS PER HOUR ONLY $out of stock ORDER HERE ONLINE\
---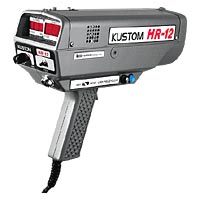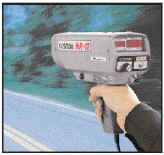 KUSTOM HR-12
K-band Handheld/Dash mount Moving/Stationary radar. Superior performance and range. Has Internal Calibration Check, segment test, adjustable audio, squelch/unsquelch switch, RF hold switch, and trigger lock.
This light weight hand held radar easily slips into the included dash bracket, with a one handed operation, to convert from a handheld radar to a mounted moving radar!
With certification, tuning forks, new hard shell foam lined carry case, operators manual, dash bracket and 1 year warranty. $695 ORDER HERE ONLINE
KPH Kilometers Per Hour version add $50
---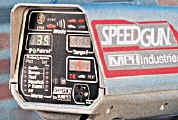 MPH SPEEDGUN
Speedgun® Doubles as a handheld and dash mounted unit!
The Speedgun is a version of the Speedgun with same-direction moving mode. In stationary mode, the Speedgun Plus indicates the displayed target approaching or moving away from the operator. In same-direction moving mode, the radar senses the target's relative motion toward or away from the patrol vehicle and displays the correct target speed. Reads Fastest Vehicle in a pack of cars and shows the Fastest and Strongest vehicle simultaneously.
Moving/Stationary hand held or dash mounted radar. This radar unit is "convertible." The MPH's Speedgun® is both a dashboard radar as well as a handheld gun, depending upon whether the handle is installed on the gun or used as a hand controller. This radar does everything: stationary or moving, opposite or same direction moving and stationary modes, strongest or fastest target, dash-mounted or handheld, and employs well-proven and court-tested DSP technology.
With certification, tuning forks, dash bracket, hard shell foam lined carry case, operators manual, and 1 year warranty. $795 ORDER HERE ONLINE
---
K Band Stationary Hand-held Radar. Has excellent range and performance! Reads up to 199 MPH. Great at the NASCAR track. Has Calibration test, Segment test, adjustable audio, range control, RF hold and trigger lock. With certification, hard shell foam lined carry case, tuning fork and 1 year warranty. $395
configurations and versions:
Cordless Falcon with internal battery pack Has brand new NiMh internal battery pack. Comes with AC charging adaptor to recharge battery. $595
Corded Falcon/RoadRunner Low Speed Radar, tenths version. - Reads in tenths of a MPH from 99.9 MPH down to 0.7 MPH! Ideal for fork lifts, joggers, bicycles and trains where you need to clock low speeds down to 0.7 MPH in tenths of a MPH. (i.e. 0.8 MPH, 55.2 MPH, 3.9 MPH) Reads from 0.7 to 99.9 MPH. - $595
Cordless Falcon/RoadRunner Low Speed Tenths with internal battery pack Has brand new NiMh internal battery pack. Reads in tenths of a MPH from 99.9 MPH down to 0.7 MPH! Ideal for fork lifts, joggers, bicycles and trains where you need to clock low speeds down to 0.7 MPH in tenths of a MPH. (i.e. 0.8 MPH, 55.2 MPH, 3.9 MPH) Reads from 0.7 to 99.9 MPH. Comes with AC charging adaptor to recharge battery. $795
Click here for more info and specs on the Falcon
---
Ka BAND Kustom Talon Stationary Radar with DSP technology. Superior performance and range. Has Internal Calibration Check, segment test, adjustable audio, squelch/unsquelch switch, RF hold switch / trigger lock.

This package comes with Corded handle to plug into cigar plug, hard shell carry case, certification, tuning forks, operators manual and 1 year warranty. only $695
---

PHANTOM K BAND HANDHELD STATIONARY POLICE RADAR GUN

Small and Light weight - Only 1.5 lbs!

READS SPEEDS FROM 10 - 199 MPH. These radar guns are NHTSA approved for law enforcement and have fantastic range! Reads speeds toward or away from radar. Just point and squeeze trigger. As soon as trigger is pulled, the radar emits a signal and reading is displayed. Then release trigger, the reading will lock and stop transmitting signal to defeat radar detectors. Has power cord and cigar plug and runs on regular cigarette lighter plug in vehicle. Variable audio, adjustable range, internal calibration test, segment test, w/ RF Standby and lock. Has low voltage and RFI warning indicators. With certification, tuning fork, hard shell foam lined carry case, and 1 year warranty. out of stock ORDER HERE ONLINE

---

MPH Z-35 With Fastest and "POP" Battery Operated Handheld Radar

Patented POP™ feature
"Fastest vehicle" mode
Two-window speed display

Features

Extremely simple to use
Instantaneous speed capture
Excellent target range
Compact and lightweight
Narrow beam K-band antenna
Comprehensive error detection

The Z-35 handheld is the most advanced stationary Doppler radar. The Z-35's POP™ feature allows the officer to monitor traffic speeds all day without setting off a single radar detector. There are two speed displays, allowing both "track-through-lock" and "fastest vehicle" readings. This second display also confirms the radar's status at any time that the operating mode is changed. Activation of a mode key is confirmed by synthesized voice. The standard Z-35 package also includes the radar, tuning fork, carrying case, and operator's manual.

Has variable audio and range, internal calibration test, segment test, RF hold and audio squelch. Low Volt and RFI warning indication. With battery pack, charger, certification, tuning fork, hard shell foam lined carry case, and 1 year warranty. $795 ORDER HERE ONLINE

---

MUNIQUIP K BAND HANDHELD STATIONARY POLICE RADAR GUN

Muniquip K-GP stationary radar radar unit

Small and Light weight - Only 1.5 lbs!

READS SPEEDS FROM 10-185 KMPH. This radar gun is NHTSA approved for law enforcement and has fantastic range! The MUNI-QUIP READS has instant-on trigger activation of the radar transmitter to defeat radar detectors. It is an advanced K BAND radar. It reads speeds of targets moving toward or away from the radar. This unit has a cord and cigar plug and runs on any 12-volt power source. Radar weighs 1.5 lbs. - only two thirds the weight of the Falcon and many others.

Just point and squeeze trigger. As soon as trigger is pulled, the radar emits a signal and reading is displayed. Then release trigger, the reading will lock and stop transmitting signal to defeat radar detectors. Has variable audio, adjustable range, internal calibration test, segment test, w/ RF Standby and lock. Has low voltage and RFI warning indicators. With certification, tuning fork, hard shell foam lined carry case, and 1 year warranty. $295 ORDER HERE ONLINE
---